Flowers For All Occasions!
Need same day delivery? Call us before 1 pm and we can make it happen
Experienced Artisians
With over 20 years of experience, your floral arrangements are in good hands
Always Fresh Flowers
Our cooler is stocked with fresh flowers and there's always something new
Unique Designs
Our floral artisans are always looking at unique and creative ways to craft new arrangements
Shop from our virtual cooler. This allows you to see what we have in our cooler right now without leaving your home or office.  Every day the selection is refreshed so check back often for new flowers and arrangements!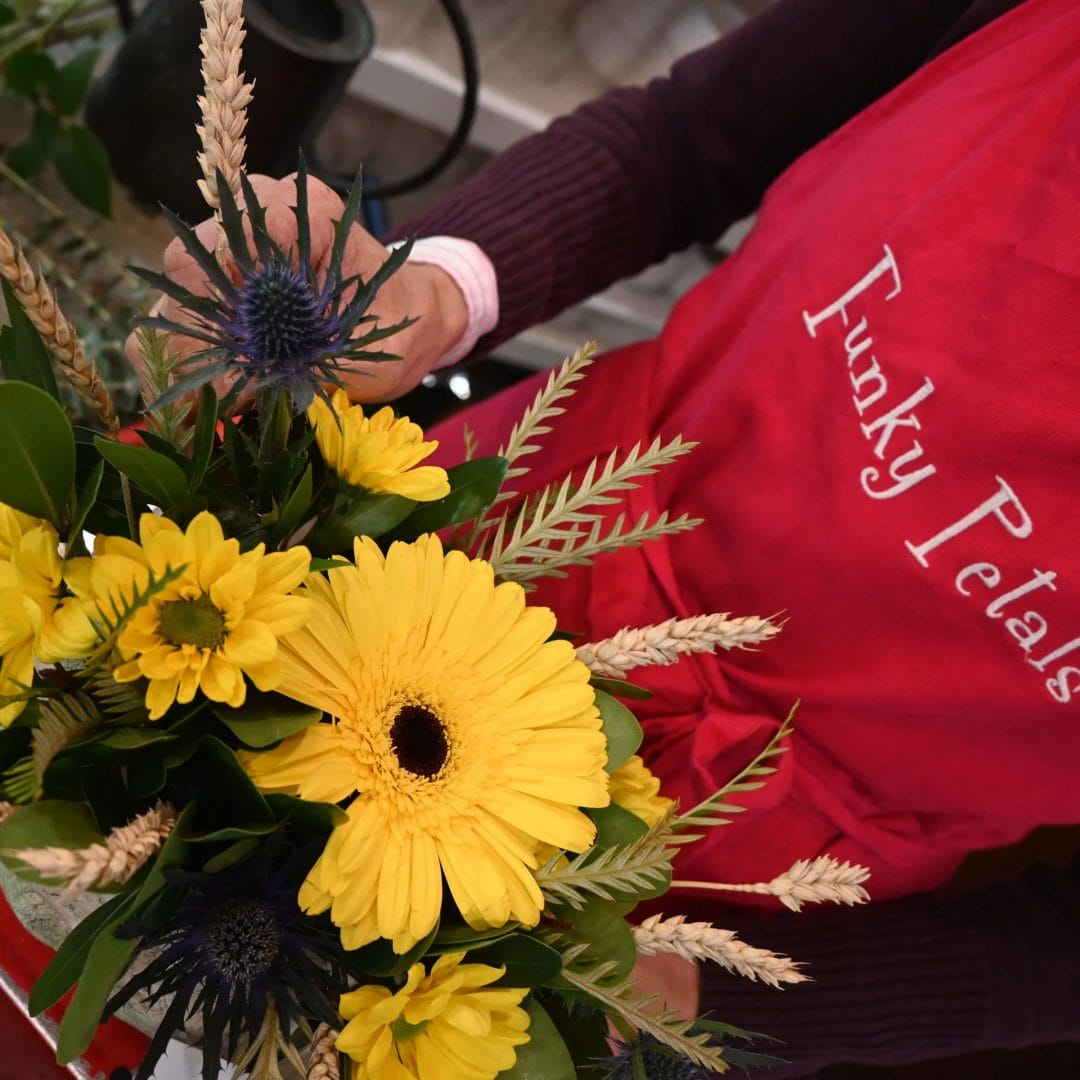 Order a one-off arrangement and we'll be delivering a uniquely designed floral art piece crafted with care using fresh flowers from our cooler.
Completely custom arrangements backed by our 20+ years of experienced ensure that you will have something awesome for your wedding or other special occasions.
Customizable schedule, budget, and design use our subscription service to set up floral arrangement deliveries and we'll take care of the rest.
Discover
Funky Petals Airdrie
We are a group of dedicated floral artisans in Airdrie with years of experience and a passion for creating living art.  Locally owned and operated, our flower shop looks like a cute little house and is located just off Main Street in Airdrie.  We welcome you to come to visit our flower shop to see what we have fresh and available in our cooler today!
"Funky Petals did an incredible job on my wedding florals. I wasn't really sure what I wanted and they somehow took my millions of ideas and created something better than I could have imagined. I would highly recommend working with these ladies."
"Received a stunning arrangement from funky petals. Absolutely love it. It's been a week and, with a few modifications, it still looks lovely. Delivery was on time and I even got a follow-up call to check that everything was OK. Highly recommended."
"I received a bouquet as a gift and the arrangement was absolutely beautiful with fresh flowers, arranged in a wonderful presentation. Staff were also pleasant to speak to over the phone. I will definitely use these florists for my next floral needs!"
Be sure to contact us about your floral needs today!  Stop by our shop in person, give us a call, or send us a message.  We're eager to hear from you!